We all know the New Year is right around the corner, which means New Year's Eve parties are too. Planning for guests, whether it's a small or large gathering, can be challenging. You have to think about providing food that will cater to everyone, while also staying on top of the decor, the drinks and the entertainment. Let's be honest, no one wants to be known for a boring party. But more than anything, no one wants to be known for serving subpar food.
So, we thought we would make your life a little bit easier by laying out a few ways you can use Prosciutto di Parma to elevate your celebrations and take some stress out of your next party! Here are a few recipes that are easy, and perfect for entertaining and impressing those guests!
Let's start with some Prosciutto Wrapped Mozzarella. It's a party go-to that's great for both kids and adults. Why serve plain ole' mozzarella with tomatoes when you can add delicious prosciutto? Adding prosciutto to mozzarella pearls is a quick and simple way to elevate a traditional appetizer with a delicate and subtly sweet and salty element. Try it out!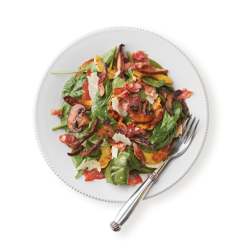 Finger foods are a must at any party, trust us. But it's also important to incorporate a salad or vegetable to offer a balance for your guests. Incorporating this Prosciutto Salad with Roasted Wild Mushroom Delicata Squash, and Balsamic-Thyme Vinaigrette is a great way to please everyone. It's easy, it's delicious and it highlights prosciutto perfectly.
Finally, let's talk antipasti, the ultimate party must have. If you're going to do one thing right, this should be it! Adding this Italian Antipasti with Prosciutto Di Parma is a compliment waiting to happen. Not only does it look beautiful, but it tastes delicious as well! This recipe ties together diverse flavors ranging from sweet to spicy to salty, and incorporates unique elements like radicchio leaves and pepperoncini. It's important to pair your ingredients so they complement each other. Not only does it show your guests that you know how to cook, but also shows that you know how to entertain.
The New Year is about celebrating all that is good in our lives and all that we have to look forward to. With Prosciutto Di Parma, we celebrate long standing traditions that create beautiful prosciutto, but our prosciutto is more than that. It's a piece of Parma heritage that brings people together and creates a conversation. So, whether you're having a casual Christmas gathering with close friends and family, or throwing a soiree for New Years, you should have some Prosciutto di Parma on hand for all your celebratory and social gathering needs!
Take a look at our website here for additional tips and recipes that will spice up your party.