A good wine paired with Prosciutto di Parma can make any meal extraordinary, but what about the perfect beer? Often overlooked, beer can complement prosciutto dishes seamlessly by balancing out the saltiness and providing a crispy, smooth finish. Below, beverage writer and Certified Cicerone, Ethan Fixell, presents his suggestions for the top prosciutto and craft beer pairings, including brews that go together with some of our own Prosciutto di Parma recipes.
Prosciutto-Wrapped Melon + Fruit Beer
Melon and prosciutto is the ideal opening to any meal. The combination of fruit and cured meat beautifully melds sweet with salty, and creates a wonderful textural experience greater than the sum of its parts. When pairing the dish with a beverage, a dry, subtle fruit beer not only strengthens the fruit notes of the melon, it complements the prosciutto just like the melon does itself. (Whether tart or outright sour, just be sure the beer is dry – too much residual sugar will overwhelm the natural sweetness of the melon and the meat.) And the elevated carbonation levels of an effervescent fruit beer will elegantly scrub the palate clean of any lingering fat, sugar or salt.
Suggested beers: 21st Amendment Hell or High Watermelon; Dogfish Head Festina Pêche

Prosciutto Salad + Witbier
A prosciutto salad can come in many forms, but I've always found that arugula makes for an ideal base – and some citrus (lemon or orange!) and cheese (parmesan!) are perfect for rounding out the plate. Similarly, whether Belgian-style or authentically Belgian, a witbier will be brewed with orange peel and coriander no matter where it hails from. The orange peel will echo the citrus in the dish, and the spicy coriander will add some flare to each mouthful. Best of all, the witbier is flavorful enough to support the prosciutto, but mild enough not to overwhelm the delicate, leafy salad.
Suggested beers: Allagash White; Hoegaarden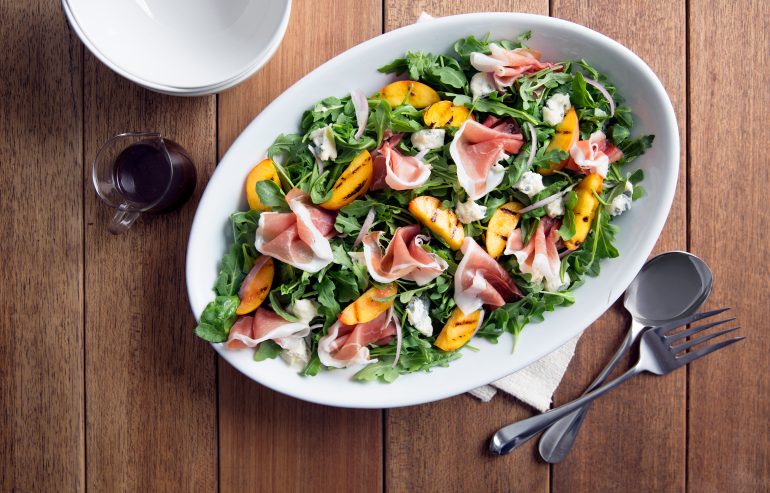 Scallops, Asparagus, Prosciutto + Pilsner
Prosciutto-wrapped scallops are classic hors d'oeuvres prized for their two-way amplification of the savory and briny notes in each respective ingredient. And prosciutto-wrapped roasted asparagus is a classic in its own right for the way the mild, earthy vegetable contrasts and balances the meat. But combine all three ingredients on one plate with a bit of browned butter, and you've just hit the mother lode of salty, crunchy, and fatty, my friend. What better way to bring it all together than with a crisp, clean pilsner? I prefer the German version of this lager style, which will be drier than an earthier, more floral Bohemian pilsner (such as Pilsner Urquell) – but either will work well to cleanse the palate after each bite.
Suggested beers: Bitburger; Victory Prima Pils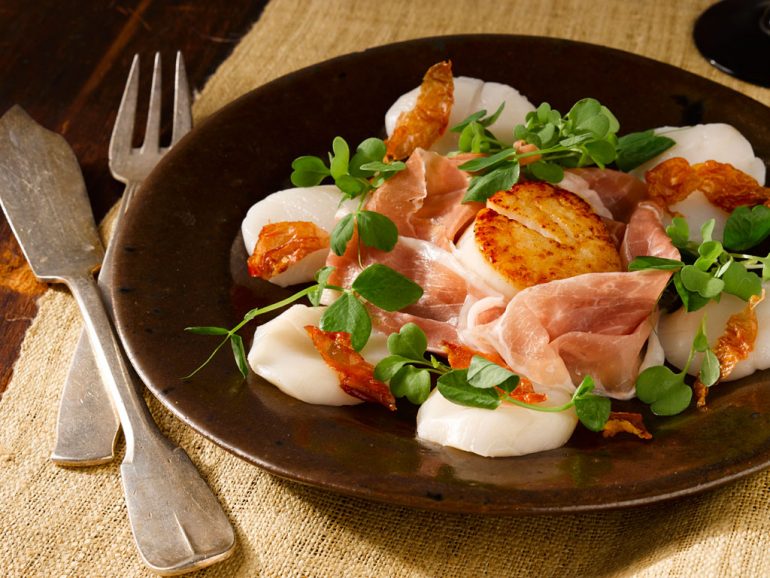 Prosciutto-Wrapped Figs + Barleywine
If prosciutto-wrapped melon is the perfect opening to any meal, prosciutto-wrapped figs – whether fresh, roasted or dried – are the ideal closer. Figs have a more concentrated sweetness than melon, and a deeper, more intense flavor, which not only makes for a great for dessert, but begs for a pairing beverage of comparable weight and fortitude. Enter the barley wine: a 9–12% ABV strong ale that favors rich, bready notes reminiscent of molasses, caramel, or even toffee. Two main varieties of barley wine prevail: British- and American-style. And again, the British – with its more subdued hop character and lower overall bitterness – would likely be my preference here. But either will work with this delicious bite, bursting with sweet, creamy, savory flavor.
Suggested beers: Anchor Old Foghorn; Fuller's Golden Pride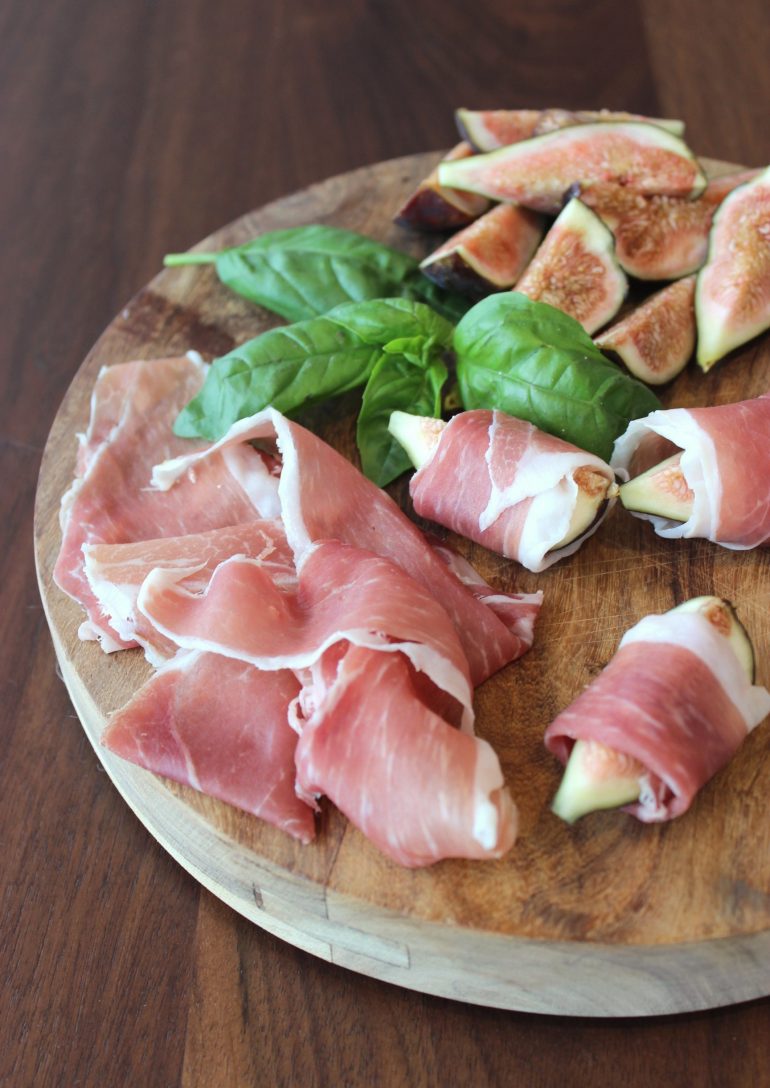 Prosciutto-Wrapped Turkey or Pork Loin + IPA
Whether loin, butt, or shoulder, any roast cut of turkey or pork can be wrapped with Prosciutto di Parma for the ultimate decadent finishing touch. The result is a crispy, juicy dish with an encasement that elevates the surrounding meat even further. The perfect beer pairing here is a classic British-style India pale ale. Avoid über-American hop-bombs, which tend to favor dank or citrusy notes above all else. Instead, the slightly sweet malt backbone of a more traditional malt-forward IPA will complement the caramelized char of the meat and balance the salt, while the bitter – but restrained – noble hops will cut through the fat.
Suggested beers: Goose Island IPA; Samuel Smith's India Ale