The history and region of Prosciutto di Parma production are what set it apart from other prosciutti in the world. Since Roman times, this geographically protected food has been world renowned for its delicately salty, yet uniquely sweet flavor and buttery texture.
Although many food lovers are learning how to cure their own prosciutto, including chefs, Prosciutto di Parma still sets the standard. In Parma, making prosciutto is part of an age-old tradition passed on from generation to generation and many of the methods used thousands of years ago have remained the same.
Despite thousands of years of curing, Prosciutto di Parma has always been 100% natural, containing no additives, preservatives or hormones. Aged twice as long as many other prosciuttos, Prosciutto di Parma creates a depth of flavor. There's no prosciutto with the same delicate, savory-sweet taste and buttery texture.
History of Prosciutto di Parma
Prosciutto di Parma was born in the ancient Roman times when Cato the "Censor" first mentioned the extraordinary flavor of the air-cured ham made around the town of Parma in Italy. At the time, the legs were left to dry, greased with a little oil and aged without spoiling, leading to a tasty meat with a pleasant flavor. The famous Italian ham even makes a cameo in the world's first mock heroic poem by Alessandro Tassoni, La secchia rapita, published in 1622.
Where is Prosciutto di Parma from?
Emilia Romagna is one of the differentiating factors that set Prosciutto di Parma apart from all other hams. The rolling hills around Parma create an ideal environment that includes the Apennine Mountains, which offer crisp breezes that flow from the Adriatic Sea and a distinct microclimate that gives Prosciutto di Parma its uniquely sweet flavor. Emilia Romagna is also home to Parmigiano Reggiano and balsamic vinegar. Learn more about the region by planning a trip to an Italian prosciuttificio.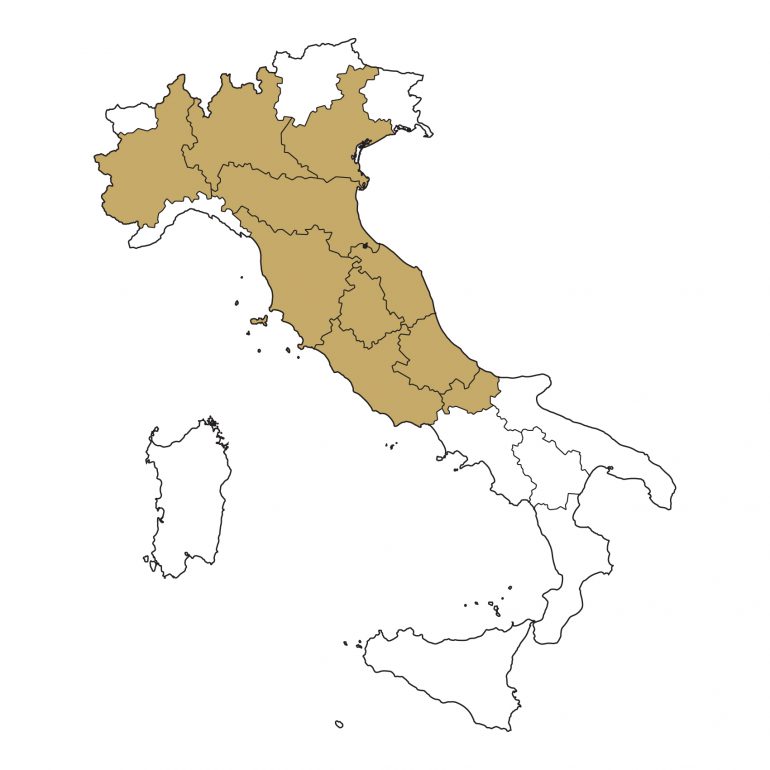 Specially Bred Pigs
Prosciutto di Parma can only be produced from Italian-born and bred pigs raised according to the highest standards, on which they are monitored, inspected, and traced.
From the moment they are born, each pig is monitored, inspected and traced to ensure that high standards are being upheld and adhered to. The pigs are fed a healthy diet, which may include the whey from the Parmigiano Reggiano production, another culinary specialty from the Emilia Romagna region. The pigs used to make Prosciutto di Parma thrive on Italian terrain.
Each piglet receives a breeder tattoo indicating the farm on which it was raised within the first 30 days of its life. That tattoo is also on the final product that receives the Parma Crown.
The Parma Crown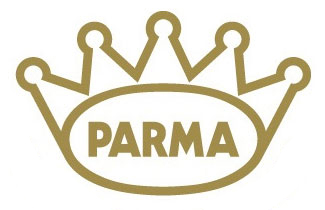 The Parma Crown is only fire branded on the hams truly worthy of being called Prosciutto di Parma. The five-pointed crown, or "ducal crown," was originally created to symbolize the Duke of Parma and Piacenza (a town northwest of Parma) but is still used as the coat of arms for the town of Parma today. When you buy Prosciutto di Parma, you don't have to worry about quality.
The Parma Crown is branded on every leg of Prosciutto di Parma at the end of the curing process. If you see a leg of prosciutto without the Parma crown, it's not Prosciutto di Parma. The signature symbol signifies that you're buying a 100% natural product: no additives or preservatives, just Italian-bred pork, sea salt, air and time.
Tips For Buying Prosciutto di Parma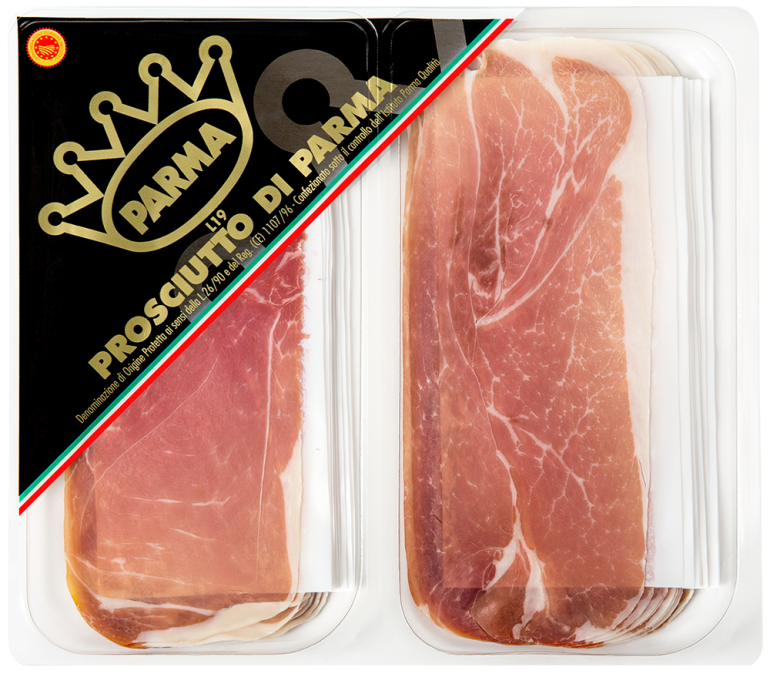 You can find prosciutto at many gourmet deli counters and specialty food stores, either pre-packaged or available for slicing. Click here to find a retailer near you.
Look and ask for the Parma Crown on the leg or pre-sliced package next time you buy prosciutto to ensure you're getting the real Parma.
Ask the deli clerk to slice it sliced paper thin with a ½ inch band of fat around the edge. Never ask for the fat to be removed. It boasts 50% of its distinct flavor.
PDO Recognition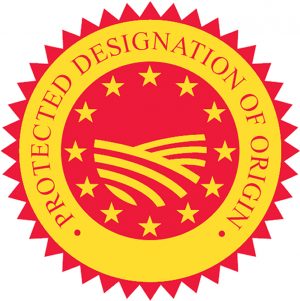 In 1996, largely due to the efforts of the Consorzio del Prosciutto di Parma, Prosciutto di Parma became one of the first products to be awarded the Protected Designation of Origin (PDO) status. PDO is a European Community certification system designed to protect names and traditions of high-quality European foods, made according to traditional methods in a defined geographic region.
About the Consorzio del Prosciutto di Parma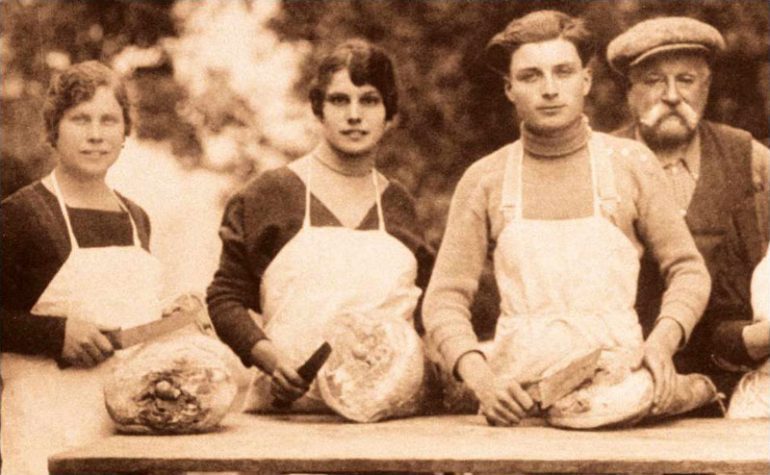 The Consorzio del Prosciutto di Parma represents the Italian producers whose families have made Prosciutto di Parma for thousands of years. It was established in 1963 by 23 members producing 53,000 branded hams who wanted to protect and promote their product throughout the world. The Consorzio now has grown into a family of 150 Prosciutto di Parma producers supplying nearly 9 million hams annually to markets globally. The production of Prosciutto di Parma is still regulated by the strict laws defining the characteristics of Prosciutto di Parma, identified by the Parma Crown branded on every ham.