As a dining establishment that serves fine foods and delicious cuisine, it's essential to have a deep understanding of the ingredients and dishes that you offer to your guests. Knowing the process for purchasing and storing Prosciutto di Parma is just as important as keeping the history and virtues behind this world famous ham in mind. The following information offers instructions for handling Prosciutto di Parma with the utmost care and suggestions for incorporating it within your menu.
The Prosciutto di Parma Premium
The Consorzio del Prosciutto di Parma recently commissioned a study on more than 7,000 restaurant menus across all 50 U.S states to learn more about the adoption, versatility and pricing of prosciutto.
Click on the infographic below to learn more.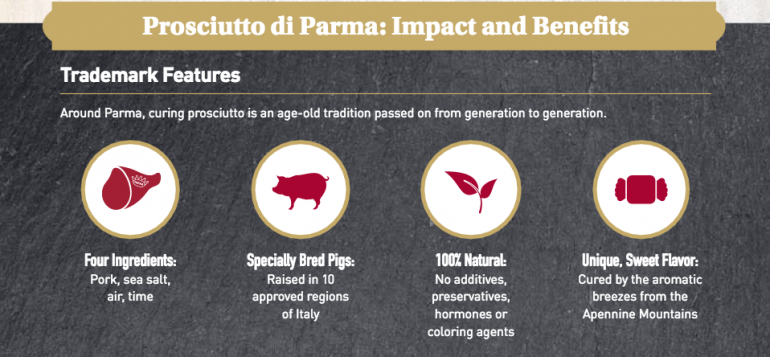 Learn More About the World's Most Famous Ham
Produced only in Parma, Italy
Only four ingredients: specially-bred Italian pigs, sea salt, air and time
100% natural and gluten-free; no additives or preservatives
Air-cured for a minimum of 400 days
Easily traceable through all stages of production
Awarded the European Union's PDO (Protected Designation of Origin) certification, an extra guarantee of authenticity and quality
Purchasing
Prosciutto di Parma is typically sold as a boneless leg, aged for at least 400 days and up to 30 months. It may also be sold bone-in or pre-sliced and packaged. A typical boneless leg weighs between 15 and 17 pounds, 85-90% of which is servable. With an average portion of 1 ounce (equivalent to 2 slices), a 15 pound leg will serve over 200 guests.
Storage and Handling
A vacuum-packed leg can be stored up to 12 months, refrigerated at 40°F to 45°F. Once the vacuum seal is broken and slicing begins, the ham can be held under refrigeration for up to 40 days. Make sure in between use that the cut surface is covered with plastic wrap or tin foil. Freezing is not recommended.