Few things go together in life quite as well as Prosciutto di Parma and wine. This savory, buttery treat pairs well with almost everything, but some wines complete a dish in ways you didn't think possible. From balancing saltiness to complimenting sweetness, the perfect wine can take your Prosciutto di Parma dish to the next level. Ethan Fixell, beverage writer and Certified Specialist of Wine (CSW), describes his favorite Prosciutto di Parma and wine pairings below.

Prosciutto-Topped Pizza + Sangiovese
Some say a pizza isn't complete without a bit of Italian pork – and there's no better pork for pizza than Prosciutto di Parma. I like it along with a bit of fresh, peppery arugula to balance out the intensity of the fatty meat and cheese. You'll need a wine big enough to stand up to the complexly layered pizza, but not so intense that it tramples over its more nuanced flavors. The obvious go-to pairing is found in wines made from the workhorse grape of Tuscany: Sangiovese, with its big, ripe, cherry fruit flavors, firm tannins, and high acidity. You can find it in Chianti, Vino Nobile di Montepulciano, and Rosso di Montalcino, to name a few! All will work wonders with this classic pie.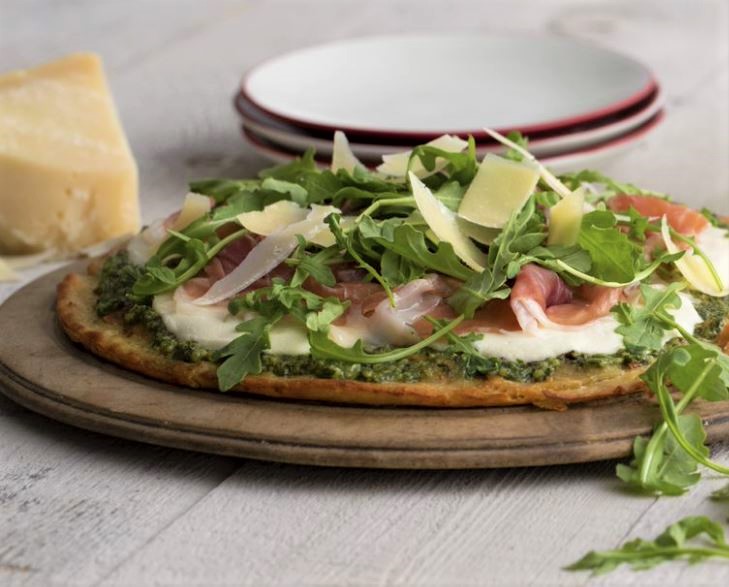 Spaghetti Carbonara with Prosciutto + Pinot Grigio
One of the all-time great Italian dishes, carbonara combines pasta, cheese, pork and a creamy egg "sauce" for an all-out assault on the senses. But you can take this dish up another notch (as if it were possible?) by substituting guanciale or pancetta with some cooked, diced thick-cut Prosciutto di Parma. This rich dish goes best with a crisp, un-oaked white like a high quality Pinot Grigio, which will be dry with a brilliant acidity to wash away the fat of each bite. It's certainly not the sexiest or most sophisticated white, but a nice bottle from Italy will certainly get the job done. On a similar note, you can also try some Gavi from Piedmont, which might have an even better shot at standing up to the richness imparted by the egg!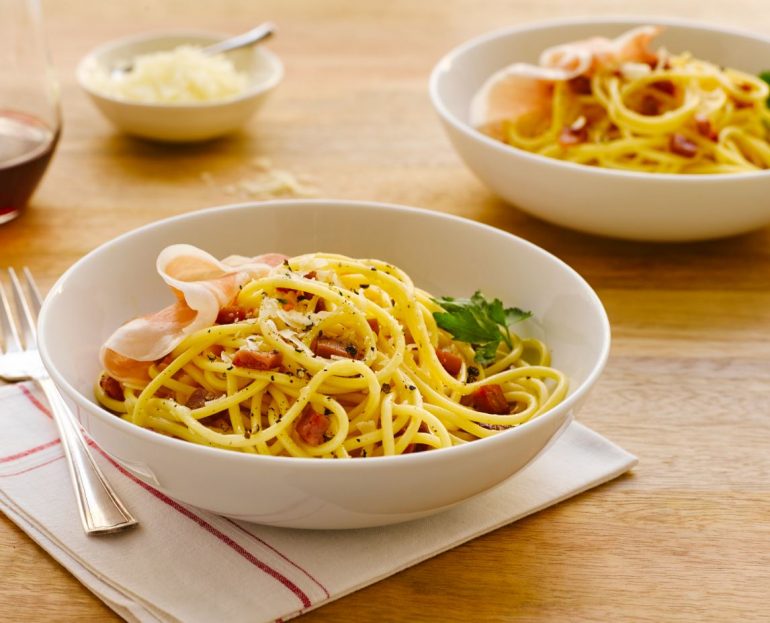 Sautéed Brussels Sprouts and Prosciutto + Sauvignon Blanc
All it took was one recipe for me to overcome years of childhood stubbornness to realize just how delicious Brussels sprouts are. If only my poor mother knew that Prosciutto di Parma was the key … Sauté these two ingredients with a bit of oil, salt and pepper, and you've got the perfect crispy, salty side dish to complement any hearty entrée. However, sprouts are notoriously difficult to pair with wine, as their earthy, sulfurous notes can taste like a wine fault. Go with a subdued Sauvignon Blanc-based wine from the Loire Valley, like a Sancerre or Pouilly-Fumé. The flinty minerality of such French versions of the grape will bring out the best of the sprouts, while the zesty wine's wild acidity will clean up after the meat.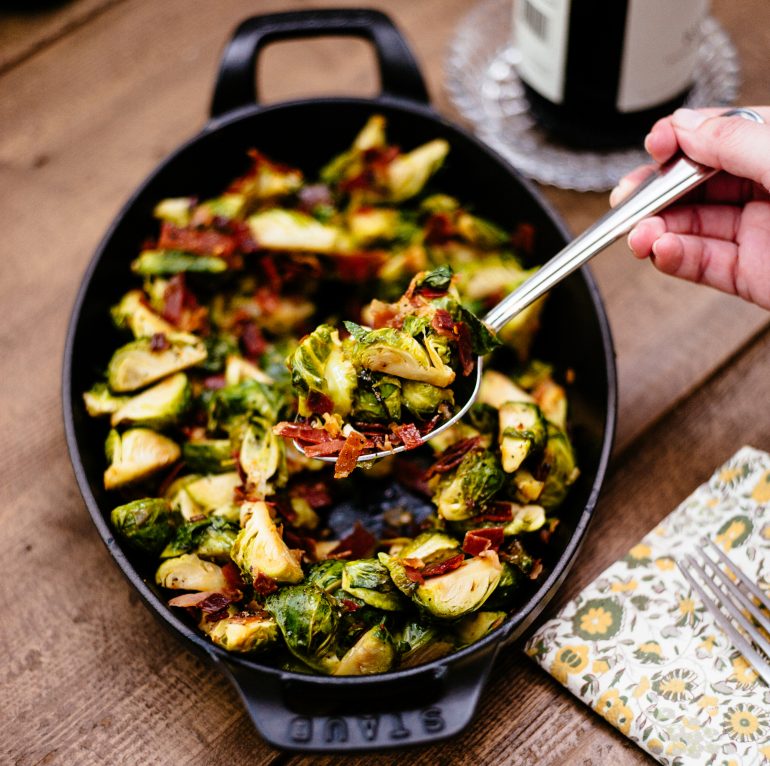 Eggs and Prosciutto + Champagne
Forget bacon and eggs – this is a classic brunch pairing upgraded! Add Gruyère, parmesan, or any other cheese to pull the whole thing together. The carbonation of a fine sparkling wine will cut through the texture of any egg dish, and the creamy fruit plays with the cheese. Of course, there's plenty of acidity to go around here, too, which will cut through the fat of the egg and meat. Ideally, you want the real-deal stuff here: Champagne, which will provide yeasty brioche- or bread-like notes that really pull everything together. But a sparkling brut – especially one made by Traditional Method (or méthode champenoise) – from elsewhere in France (e.g., Cremant), Spain (e.g, Cava), or even California could work well, too.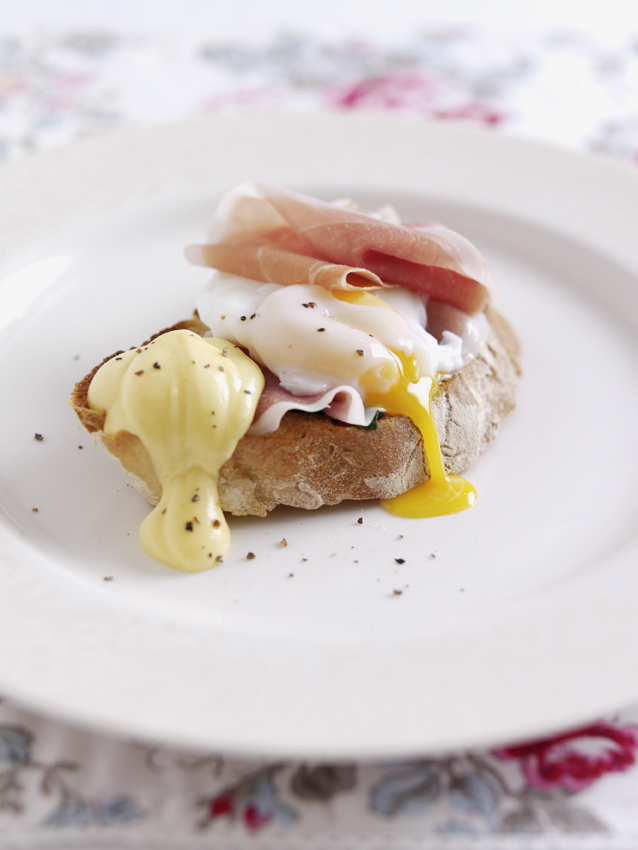 Tomato Salad with Prosciutto + Fino Sherry
Like the Odd Couple of the food world, the fact that tomatoes and prosciutto are complete opposites make them the perfect team. Prosciutto brings the salt and fat, while tomatoes counter with sugar and acidity to balance the meat out. For an optimal nosh, layer the prosciutto and tomato over some fresh mozzarella, drizzle the stacks with a bit of olive oil and balsamic vinegar, and pair with a glass of crisp, cold fino sherry. This crazy, dry, fortified wine is quite literally made to be enjoyed with both tomatoes and cured ham; introducing the salty, minerally, slightly bitter beverage to an Italian-inspired take on classic Spanish tapas is obviously a natural fit.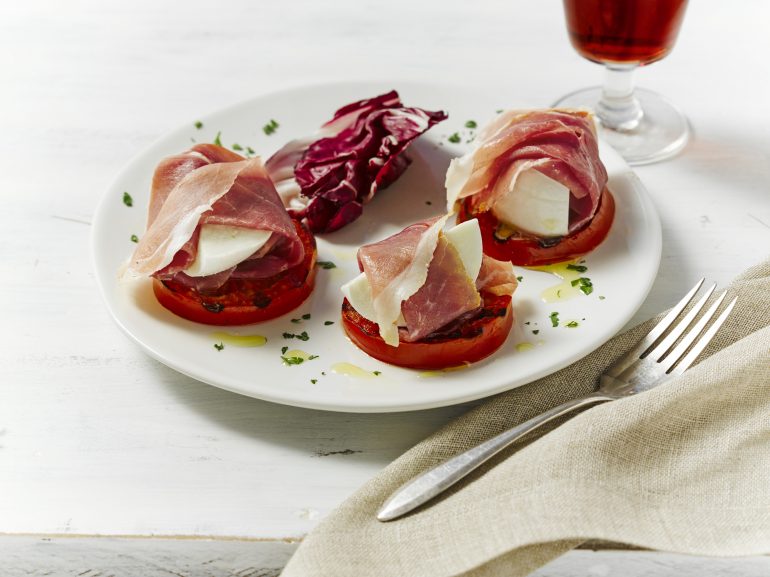 Prosciutto-Wrapped Roast Chicken + Burgundy
For those unconvinced by the blandness of a simple roast chicken, wrapping it with prosciutto launches the lean poultry into a whole new dimension of flavor. In pairing wine with the dish, a red certainly makes sense, but avoid incredibly heavy tannins, as the salt might make such juice taste sour. A medium-bodied Burgundy will have the ideal balance of fruit, wood and acid to take this complexly layered dish – but if that's too extravagant for your taste (or wallet!), a Cru Beaujolais will work really well, too, with the Gamay serving a similar role to that of the Pinot Noir. Or, if you'd prefer to avoid France altogether, a Rioja Riserva – made with cooler climate Tempranillo aged in very old oak – will possess a similar level of grace and elegance as the French stuff, perfect for standing up to this dish without overpowering it.