Tis the season! Awards season, that is. You made it through the Golden Globes, the Critic's Choice Awards, even the Grammys. And now it's time to root for your favorite film of the year at the 92nd Academy Awards Ceremony, AKA the Oscars.
Maybe you have spent the last four months between the movie theater and your couch watching every Oscar-nominated movie. Maybe you only want to tune in to see what the stars are wearing. Or maybe you're just in it for the snacks and the drinks. Whether you're rooting for Parasite, Little Women, Once Upon a Time in Hollywood, or Joker, invite your family and friends over to witness the Oscars' glitz and glamour, while treating them to some Prosciutto di Parma-featured dishes.
Pease join us as we crown the top Prosciutto di Parma dishes of the year, sure to make your Oscars watch party award-winning.
The Carpet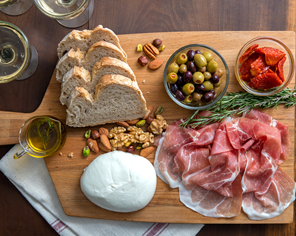 Roll out the prosciutto for your guests' arrival and leave the paparazzi at the door. Like every awards show, the Oscars start out with the biggest stars being interviewed on the red carpet. Luckily, your guests won't be asking "Who are you wearing?" but instead, "What are we eating?"
Start the show with a Charcuterie Board featuring Prosciutto di Parma. Add your favorite cheeses, crackers, bread, nuts, fruits, and more. If you're new to the Charcuterie game or just looking for a refresher, check out our tips for building the perfect Charcuterie Board.
Prosciutto di Parma in a Supporting Dish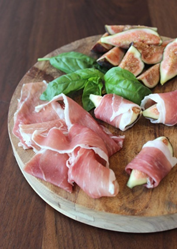 We like to think of appetizers as the supporting roles of our meals. Presenting the top two nominees for Prosciutto di Parma in a Supporting Dish, both of which will impress your movie buff crowd. And the nominees are….
Prosciutto Wrapped Figs: The pairing of savory prosciutto and creamy, sweet figs is strong and tasty enough to make Oscars history. Only two ingredients are needed, and you have thrown together a fresh, balanced bite. Lay them out nicely on a platter to fit the Hollywood mold.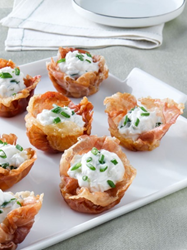 Crispy Prosciutto Cups with Goat Cheese Mousse: These crispy bites will surely impress your watch party guests. Simply bake your Prosciutto di Parma slices in a muffin pan and fill the cups with a creamy cheese blend for a winning combination of flavor and elegance.
Prosciutto di Parma in a Leading Dish
Like the leading role in a movie, the entrée is the true star of the meal, and one Prosciutto di Parma recipe is deserving of the stardom this time around. Our Prosciutto Pasta Carbonara is easy to make and even easier to enjoy, any time of year, and any time of day.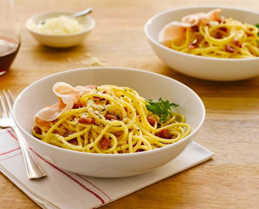 With the rich combination of pasta, cheese, pork, and egg, your Oscar-loving loved ones will certainly want a glass (or a few) of wine. This dish pairs best with a crisp white – a dry and acidic Pinot Grigio, or even some bubbly to get into the Hollywood spirit.
Your wine list for the evening should not stop there. Head to our site to learn more about which wines go best with various Prosciutto di Parma dishes.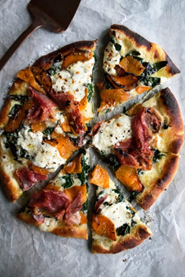 Best Prosciutto di Parma Dish
And now, for the moment you've all been waiting for. The overall best Prosciutto di Parma dish that must be served at your Oscars get together is this Winter Squash & Prosciutto Pizza. The decadent pizza is topped with creamy burrata, seasonal butternut squash, and fresh Prosciutto di Parma. Plus, it can be easily made on your favorite store-bought pizza dough. Just make sure you feed your guests a slice long before the Oscars announce the Best Picture of the year.
For additional recipes, tips, and tricks for Prosciutto di Parma, visit our website.