Prosciutto Wine Pairings
Cheese and crackers, peanut butter and jelly and wine and Prosciutto di Parma – some things are just better together. Pork pairs well with everything, but some wines complete a dish in ways you didn't think possible.
As a rule of thumb when pairing wine and Prosciutto di Parma, avoid wine with really heavy tannins, as the salt will make the tannins taste sour. Similarly, avoid overly sweet wines, which will cancel out the natural sweetness in Prosciutto di Parma.
Below you will find perfect wine and food pairings for prosciutto that include delightful wines and some of our most beloved recipes.

---
Wine: Arneis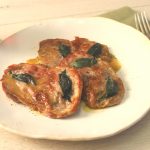 Recipe: Prosciutto Wrapped Chicken Saltimbocca Alla Romana
Filled with herbs, hot chile and dry white wine, stick with Julia Child's mantra – don't pair this Saltimbocca with anything you wouldn't drink on your own. A nice dry white with character, like an Italian Arneis, is perfect for this dish that's filled with lots of flavor.
---
Wine: Loire Valley or Grower Champagne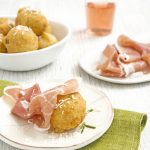 Recipe: Prosciutto di Parma Zeppoles with Parmigiano Reggiano, Rosemary and White Truffle Oil
Break out the bubbly! Opt for Grower champagne, or a wine from Loire valley that's similar to champagne, which will bring out the truffle flavor in the dish. The airiness of the bubbles and weight of the food is a match made in heaven!
---
Wine: Alicante Bouschet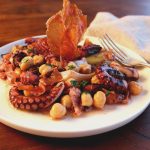 Recipe: Octopus Saltimbocca
A funky dish calls for a fun pairing. Go with an Alicante Bouschet grape, which is typically used in blends, but on its own is a cool match of flavors with citrus zest and low tannins. This wine will balance the flavors of the dish without overpowering the octopus.
---
Wine: Rosé of Pinot Noir from Willamette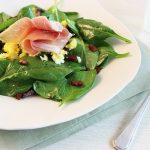 Recipe: Spinach Salad with Prosciutto Vinaigrette & Egg Mimosa
Salad and summer go hand-in-hand, and what's better to drink in the summer than a rosé? Try a rosé of pinot from Willamette, which is a cool compliment that will make the flavor of Prosciutto di Parma pop.
---
Wine: Grenache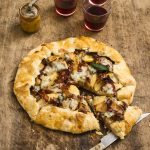 Recipe: Apple, Onion and Prosciutto di Parma Tart
This decadent dish pairs perfectly with a Grenache wine. The combination will warm you up, but isn't too heavy for a warm day either. This wine offers some brute, complementing the sweet and funky gorgonzola in the tart.
---
Wine: Dry Sherry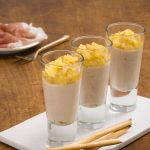 Recipe: Mousse di Prosciutto di Parma with Pineapple Mostarda
This rich appetizer calls for a wine that'll cleanse the palate between bites. Opt for a drier Sherry, which will cut the excess salt from the Tallegio, and at the same time ensure the pineapple flavor doesn't become overly sweet. A small glass is all you need with this dish.
---
Wine: Txakoli or Madeira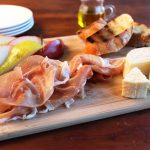 Recipe: Prosciutto Wrapped Pears with Saint-Marcellin Cheese
Cheese lovers, rejoice! This dish can go with practically any wine. If you're serving it as an appetizer, opt for a Txakoli from Spain –a dry and acidic, yet cool and fruity wine that will keep your palate awake for the rest of the meal.
If you opt to serve this at the end of a meal, go for a Sercial Madeira. This wine is a cool, elegant way to end the meal; it balances out the richness of the cheese, tames the sweetness of the fruit and gives the Prosciutto di Parma the spotlight.
---
Many thanks to Theo Rutherford, Beverage Director for Mindful Restaurants in DC, whiskey expert and certified sommelier, for the delicious wine and food pairings. For more pairing ideas, find him on Twitter @theovino.
Looking for prosciutto and beer pairings? Swing over to our beer pairings page for some fun tips.