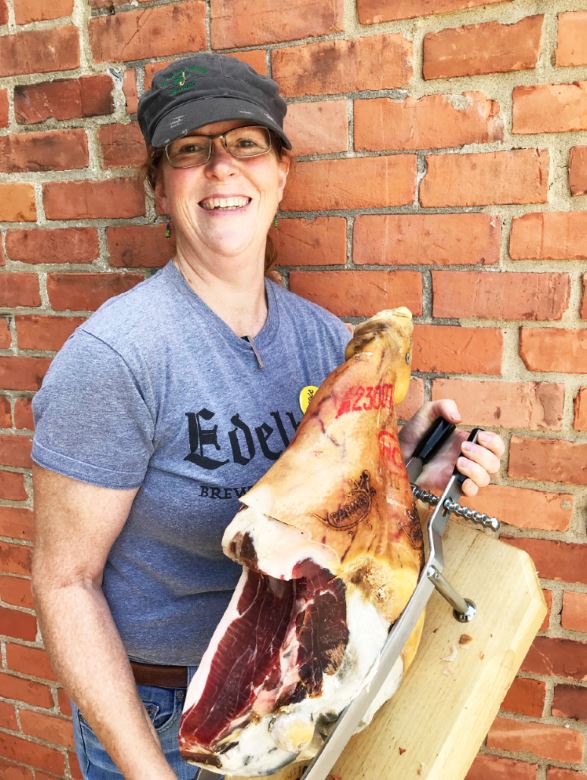 Q&A
How was cooking a part of your family history/ experience growing up?
My father was a great cook and loved experimenting with different recipes and ingredients every weekend. He grew up on a farm so he had a lot of respect for traditionally made products.
When did you learn to cook/discover your passion for cooking?
I had grown up helping in the kitchen and baking as well, but I remember making a recipe from, "Seventeen Magazine" when I was only 13 years old.  I wanted to make a full meal all by myself. It was a jambalaya and had a ton of prep and different ingredients. I spent two days shopping and cooking, and it turned out great. Ever since then, I experimented more with cooking meals and that started me on my path towards wanting to cook for a living.
What is your favorite technique or dish using Prosciutto di Parma beyond just slicing?
Right now with my garden, I have a really successful lettuce crop. Several varieties but many leafy soft greens and bib lettuce. I've been experimenting with different vinaigrettes, and then topping the salad with my favorite cheese and some sliced Prosciutto di Parma. It's a wonderful entree salad for a hot day!
What was your first experience with Prosciutto di Parma?
I am not sure I understood the difference between Prosciutto di Parma and other hams until I worked at Zingerman's . I had the opportunity to taste hand sliced and machine sliced and fell in love! I also had the pleasure to go on a hosted trip to the di Parma region and visit a prosciutto producer––what an amazing learning experience.  The standards and the care that is given to the production is so apparent, and it helped me realize that all Prosciutto di Parma is special and high quality.
What is the most important thing to remember when handling Prosciutto di Parma?
I think it's important to tell people that the flavor is rich and the serving size you need is smaller than what you'd use for other meats. Although prosciutto can seem expensive when you look at the pound price, the flavor is intense and you don't need a lot of it.  You may use 4-6 ounces of fresh meat for a serving size, and 2 oz of salami but you can use just 1 ounce of prosciutto for a serving and feel satisfied and have plenty of flavor.