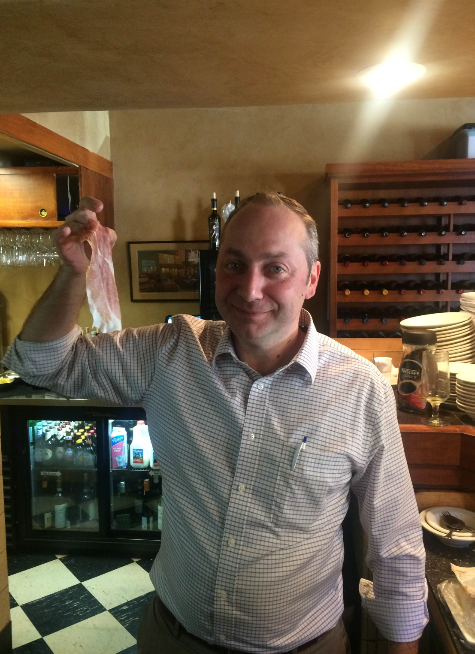 Buona Tavola
Andrea Fabbretti
1037 Monterey Street San Luis Obispo, CA 93401
btslo.com/
Q&A
How was cooking a part of your family history/experience growing up?
I basically was born in a restaurant. My father owned a restaurant and hotels for a long time. My mother was truly a great cook. She created her own specialties and prepared even the most challenging ones to perfection. She learned from her parents, who were bakers and owners of a classic Italian deli by Lake Como in Italy. My grandmother hand made gnocchi in a rabbit stew, which still today brings me beautiful memories. As my mother said, the best moments of my family have been around a set table. And as my father said, "Andrea do anything you want in life but not this job," yet, here I am. I guess it's in the blood, and it's all about a passion. Now, as owner of a restaurant, I like to provide my customers with great food using the best ingredients I can find. I also like to cook when I'm home, always looking for quality Italian products.
When did you learn to cook/discover your passion for cooking? What is your favorite way to prepare or serve Prosciutto di Parma?
I can't remember the first time I had Prosciutto di Parma; probably when I was 5-6 years old. It's always been part of my family meals. From a refreshing summer Prosciutto di Parma e melone (tuscan melon), to the almost daily merenda (afternoon snack) with a panino al prosciutto. For special events my mom cooked those french style vou-le-vans with béchamel and prosciutto, which were to die for.
Most recently I've gotten the opportunity to test out using the ends of the leg of Prosciutto di Parma, and my favorite thing to do with them is to cut them in little cubes or thick strips for my pasta sauces. Even the classic carbonara sauce tastes so good with lightly crunchy prosciutto instead of pancetta (and much leaner).
How would you describe Buona Tavola to someone who's never heard of it? What is your favorite way to prepare or serve Prosciutto di Parma?
Buona Tavola is a mid-to-high end northern Italian restaurant. Our goal is to represent northern Italian cuisine in California; specifically piemontese, always with a personalized touch of the executive chef. We use Prosciutto di Parma in quite a lot of recipes on our menu. Here are a few examples:
Parma salad with a bed of prosciutto topped with arugula, toasted walnuts, fresh sliced apples and diced Roma tomatoes in a balsamic vinaigrette and finished with Grana Padano shavings.
Pappardelle San Pietro: pappardelle pasta with fresh water shrimp, Prosciutto di Parma and braised sweet onion in a light, tomato cream sauce.
Pollo Asiago: semiboneless chicken breast, stuffed with Asiago cheese, wrapped in Prosciutto di Parma, oven roasted and finished with a white wine sauce.